Dennett Road Manor
1113 MARY DRIVE
OAKLAND, MD 21550
(301) 334-8700
Basic Profile
Located in Garrett County, Maryland
For-profit corporation (ownership: individual)
Certified beds: 99
Last Medicare rating: 4 stars
Dennett Road Manor offers skilled nursing care, wound management, respite care, and occupational therapy. It is privately owned by a single individual, and it has been in operation more than 37 years. With 99 certified beds, this Oakland facility is right around average in size, compared with Maryland and U.S. nursing homes in general.
Oakland Nursing Homes
Rural America has some of the Maryland's worst nursing homes. Our nursing home lawyers have seen care in these rural areas that will make your hair stand up on your neck.
Oakland is much closer to average than this stereotype would suggest. Denton Road's competitors generally perform reasonably well.
Garrett County Subacute Unit: This Oakland facility beats Dennett Road Manor in all four of Medicare's main rating categories for nursing homes. In fact, this facility beats most facilities anywhere in Maryland - with top 5-star ratings in three categories, and four stars (above average) in the fourth. Very few facilities earn such high scores. It sounds like there must be a catch. There is. This facility only has ten beds.
Oakland Nursing & Rehabilitation Center: This Mid-Atlantic Health Care owned facility's Medicare ratings are very nearly comparable with those of Dennett Road Manor. Oakland Nursing & Rehab's overall rating was three stars, versus four stars for Dennett, but its 4-star rating for quality measures beat Dennett's three stars.
Problems With This Nursing Home
What does it say about a nursing home where residents are routinely placed in a bed or chair and then locked in - deliberately rendered unable to move?
We don't know what particular kinds of devices Dennett Road Manor has been using, but we do know that at this facility, about one in ten long-stay residents has been subjected to physical restraints. (That grim statistic is brought to you by Medicare, based on its last standard inspection of this facility in November 2015.)
Physical restraints, as used by nursing homes, include "any device, material or equipment… [that] is deliberately intended to prevent a person's free body movement…. Examples of physical restraint include vests, straps/belts, limb ties, wheelchair bars, and brakes…."
Again, we do not know whether Dennett staffers use straps, wheelchair bars, or something else. We do know (again, thanks to Medicare) that most nursing homes seem to use physical restraints only as a last resort: witness the Maryland average of 0.6 percent, the national average 0.8 percent. Many facilities score a perfect zero-usage rate in this category. Dennett's use of physical restraints on long-term residents: 9.8 percent. That's more than a dozen times higher than the state and national averages.
It's a mind-boggling metric. If that statistic were measuring a health condition, such as influenza, we would say that this facility was having an epidemic. Instead, we get the idea that Dennett puts restraints on its residents - routinely. If you are going to use restraints without restraint, you should have a good explanation as to why that is.
Maybe we are being to harsh. Could it just be the patients that Dennett gets? It is possible. Maybe they open their arms to patients other nursing homes would turn away. But it raises some real red flags.
Local Caregivers
Of course, the use of physical restraints is only one of the many items Medicare tallies at nursing homes. Dennett had some very positive stats in other categories. Rated average (3 stars) for its health inspection and quality measures, this facility got four stars (above average) for staffing, and Medicare's 4-star rating overall. Dennett has had no federal fines or payment denials in the past three years.
But a closer look at the record raises other questions. Medicare's health inspection found a total of 9 deficiencies at Dennett, placing it right in between Maryland (11 deficiencies on average) and the U.S. (7.1 deficiencies on average).
Dennett had deficiencies in seven out of eight categories in the health inspection. These included two for quality care, one for resident assessment, and one for mistreatment. Dennett likes to tout its "community tradition," stating on its website, "Our local caregivers know and understand the needs of their neighbors, friends, and relatives…." If they know these people so well, why the deficient resident assessment? Why the citation for mistreatment? And why did Dennett have to answer to nine separate Medicare complaints about the way it treated its neighbors, friends, and relatives?
Those nine complaints came up in a Medicare complaint inspection conducted concurrently with the most recent standard inspection. There appears to be no clear pattern of these complaints: this facility simply seemed to have underperformed or performed badly in a lot of different areas.
Staffers failed to notify the administrator promptly in two cases of alleged resident abuse. Others failed to perform in-depth assessments of two residents who were becoming incontinent. Nurses failed to log their hours on a daily staffing sheet. The facility failed to perform basic maintenance, such as fixing damaged walls in residents' rooms and making sure the kitchen's walk-in freezer had a working thermometer.
A staffer neglected to fit a resident with a gait belt (a supportive device) to keep the resident from falling as she walked to the bathroom. The resident did fall, suffering a cut on the head that it took ten staples to close up. Another staffer, too, neglected to put a gait belt on a resident, who slipped and fell, breaking her pelvis.
Medicare inspectors concluded that for most of these nine complaints, the issues posed minimal harm or potential for actual harm to residents - except for the women who fell and suffered serious injuries. One complaint, while resulting in no harm to residents, potentially could have been more serious - except, perhaps, for luck. The troubling aspect is what this case said about staffers' attitudes.
A staffer entered a resident's room, leaving a medication cart unattended and unlocked in a hallway for some minutes - during which time, a resident could have pocketed some dangerous drugs. A surveyor, who had happened by, said to this staffer: "You realize you left the cart unlocked when you went into the room and your back was turned the whole time you were in there." [Quotation marks added.] The staffer - a licensed practical nurse, no less -- replied, merely, "Yes, I know."
Great Marks
It doesn't speak well for a facility if a licensed practical nurse seems completely indifferent about keeping powerful meds locked up. Nonetheless, Dennett got a 4-star rating, overall, for nurse staffing. It got four stars for RN staffing in particular. These ratings are a bit at odds with the fact that Dennett was lower than the state and U.S. averages in terms of daily time spent, per resident, by RNs (43 minutes at Dennett, versus 59 minutes and 51 minutes for Maryland and the U.S., respectively).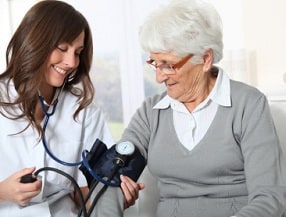 Dennett was much lower than average in terms of residents' daily time with LPNs and LVNs (licensed practical nurses, licensed vocational nurses): 33 minutes a day here, versus the Maryland and U.S. averages of 52 and 51 minutes, respectively. Few nursing homes in the whole country seem to give residents much time with physical therapists: the U.S. average is six minutes, the Maryland average eight. But at Dennett, the number was zero. Dennett did beat the state and national averages on residents' daily time with certified nursing assistants, by almost half an hour, on average. But the total nursing-staff time Dennett residents got per day was about half an hour less than the Maryland and U.S. averages.
Dennett Road Manor did have great Medicare scores with respect to care for short-stay residents - which figured largely, no doubt, in giving this facility an overall 3-star rating for quality measures.
For short-stay residents, Dennett's stats were (we think) almost spectacular, relatively speaking. Short-termers at Dennett were somewhat more likely than average to report having moderate to serious pain, and this facility's rate of successfully discharging these residents was about the same as the Maryland and U.S. averages. But in the other six of the nine categories Medicare measures for short-term nursing home residents, Dennett's scores were terrific.
Among this facility's short-stay residents, the rate of pressure ulcers was zero. (The Maryland and U.S. averages both were 1.3 percent.) Dennett's rate of giving antipsychotic meds to these residents: zero. (Both Maryland and the U.S. averaged 2.2 percent.) Dennett short-termers also experienced a significantly higher rate of improvement in functionality: 84.8 percent; versus the Maryland and national averages of 64.8 percent and 63.3 percent, respectively. As for flu and pneumonia vaccinations, Dennett reached nearly all of its short-term residents with these preventative shots, while the Maryland and U.S. averages had only about four out of five getting so immunized.
Dennett's successful discharge rate was about the same as the Maryland and national averages, but its short-stay residents seem to have fared much better than average after checking out. Only 3.4 percent of its former residents required rehospitalization - less than one-sixth as often as for Maryland (21 percent) and the U.S. (21.1 percent). And Dennett's discharged residents were only about a third as likely as average to make a visit to an emergency room.
Question Marks
But for long-stay residents, Dennett presented a different picture - a more negative one. That is ironic, since Dennett proclaims on its website that "We are recognized in the community as experts" in long-term care.
Dennett was moderately better than the Maryland and U.S. averages in terms of maintaining long-term residents' mobility, and in enabling them to remain independent in conducting their daily activities. It was modestly better in resorting less often to antianxiety meds, and again it exceeded the state and national averages on vaccinations, immunizing 100 percent for flu and 98.9 percent for pneumonia. Dennett was about on par with the Maryland and U.S. averages on incontinence and pressure ulcer rates, catheter use, and cases of serious weight loss.
Dennett was a little below par on using antipsychotic drugs, and on preventing urinary tract infections. Its long-stay residents were slightly more likely to report having moderate to serious pain, and they were a bit more apt to be depressed (depressive symptoms at Dennett, 6.1 percent, versus 4.8 percent and 5.4 percent averages for Maryland and the U.S.). The rate of falls with injury, however, was a more serious issue at Dennett, with a fall rate among long-stayers of 7.6 percent - more than twice the averages for Maryland (2.9 percent) and the U.S. (3.3 percent). As we have noted above, Dennett staffers at times were negligent on this score.
Then we turn to that mind-boggler -- one so extreme that the rest of the stats pale by comparison: the use of physical restraints. Why did Dennett feel the need to physically restrain so many of its (presumably elderly) long-stay residents? Did it fear that a resident would raid a med cart when a careless nurse wasn't looking?
"In caring for older people," said authors in the Journal of Medical Ethics, "it is sometimes necessary to carry out actions that limit their freedom of movement. Usually, this is done for reasons of good care…." We get it: if someone puts "limb ties" or some other constraining thing on Grandma, it's for her own good. But the authors conceded: "What is less well known are the psychological and social consequences of physical restraint use." One could start that investigation by asking Grandma how she likes having her limbs tied.
Nonetheless, Dennett seems to be popular - at least as gauged by its vacancy rate. In terms of resident population, this facility fell right between the Maryland and U.S. averages. The notable point is that, at last official count, it had residents in 98 of its 99 certified beds. (Although some of them may have been tucked in very tightly.) Dennett does claim to have "the most affordable prices around." And Dennett does make that claim that "Our local caregivers know and understand the needs of their neighbors, friends, and relatives…." But if the 2015 complaint report and their physical restraint usage give any indications of how they treat their friends and neighbors, you may want to think twice before moving in next-door.
Oakland Nursing Home Lawyer
If your loved one has been badly harmed or unexpectedly passed away in a nursing home or residential care facility, you need a nursing home lawyer to help you determine whether you may be entitled to financial compensation. Miller & Zois is here to help you. Call our lawyers today at (800) 553-8082 or get a free online case evaluation.
More Information
1Vital Statistics
Number of Beds:
99 certified beds

Beds in the nursing home that have been approved by the federal government to participate in Medicare or Medicaid.
Accepts:
Medicare and Medicaid

Shows if the nursing home participates in the Medicare, Medicaid, or both.
2Key Ratings
Star Rating Summary
Overall Rating
Below Average
Health Inspection

Medicare assigns the star rating based on a nursing home's weighted score from recent health inspections. More stars means fewer health risks

Much Below Average
Staffing

Medicare assigns the star rating based on the nursing home's staffing hours for Registered Nurses (RNs), Licensed Practice Nurses (LPNs), Licensed Vocational Nurses (LVNs), and Nurse aides. More stars means a better level of staffing per nursing home resident

Above Average
RN Staffing
Average
Quality Measures

Medicare assigns the star rating based on data from a select set of clinical data measures. More stars means better quality of care

Below Average
3Key Short Stay Statistics
Description
Dennett Road Manor
Maryland
Average
Percent of short-stay residents who self-report moderate to severe pain
Lower percentages are better.
17.8%
10.4%
Percentage of SNF residents with pressure ulcers that are new or worsened
Lower percentages are better.
1.5%
Not Available
Percent of short-stay residents assessed and given, appropriately, the seasonal influenza vaccine
Higher percentages are better.
100.0%
85.3%
Percent of short-stay residents assessed and given, appropriately, the pneumococcal vaccine
Higher percentages are better.
97.2%
84.0%
Percentage of short-stay residents who got antipsychotic medication for the first time
Lower percentages are better.
1.6%
1.7%
4Key Long Stay Statistics
Description
Dennett Road Manor
Maryland
Average
Percent of long-stay residents experiencing one or more falls with major injury
Lower percentages are better.
5.2%
2.7%
Percent of long-stay residents with a urinary tract infection
Lower percentages are better.
2.8%
2.5%
Percent of long-stay residents who self-report moderate to severe pain
Lower percentages are better.
5.0%
5.4%
Percent of long-stay high-risk residents with pressure ulcers
Lower percentages are better.
5.6%
8.8%
Percent of long-stay low-risk residents who lose control of their bowels or bladder
Lower percentages are better.
42.0%
62.3%
Percent of long-stay residents who have or had a catheter inserted and left in their bladder
Lower percentages are better.
3.8%
1.7%
Percent of long-stay residents who were physically restrained
Lower percentages are better.
11.0%
0.2%
Percentage of long-stay residents whose ability to move independently worsened
Lower percentages are better.
27.5%
22.5%
Percent of long-stay residents whose need for help with daily activities has increased
Lower percentages are better.
21.4%
18.0%
Percent of long-stay residents who lose too much weight
Lower percentages are better.
3.6%
5.8%
Percent of long-stay residents who have depressive symptoms
Lower percentages are better.
4.2%
3.9%
Percentage of long-stay residents who received an antianxiety or hypnotic medication
Lower percentages are better.
22.4%
16.2%
Percent of long-stay residents assessed and given, appropriately, the seasonal influenza vaccine
Higher percentages are better.
100.0%
96.7%
Percent of long-stay residents assessed and given, appropriately, the pneumococcal vaccine
Higher percentages are better.
98.9%
94.1%
Percent of long-stay residents who received an antipsychotic medication
Lower percentages are better.
18.2%
12.4%
5Inspection Summary
Date of standard health inspection:04/26/2018
Total number of health deficiencies:19
Average number of health deficiencies in Maryland:14.9