Brooke Grove Rehabilitation & Nursing Center
18131 SLADE SCHOOL ROAD
SANDY SPRING, MD 20860
(301) 924-5176
Brooke Grove Rehabilitation and Nursing is a retirement community in Sandy Spring (Montgomery County) that sits on an undeniably beautiful 220 acre campus. Brook Grove offers independent living, skilled nursing, assisted living, respite care, rehabilitative treatment, and Alzheimer's care. This community is run by the Brooke Grove Foundation which owns a number of retirement communities and has over $60 million in assets.
With 168 beds and 146 residents occupying them, Brooke Grove Rehabilitation & Nursing Center is on the larger end for nursing facilities (average Maryland resident population 107.5; national average 86.2).
Size is always a quality issue because the bigger you are, the more challenging it can sometimes become to maintain consistent quality. Based on the most recent Medicare inspections, Brooke Grove - whether due to size or some other reason - does well in some areas, but has had some trouble spots.
It looks like an average nursing home. Our nursing home attorneys have long maintained that average is not good enough. The majority of nursing home lawsuits filed in Maryland are against nursing homes that Medicare rates as average or below average.
On a positive front, while this is just anecdotal evidence, a prospective client who received care at another nursing home said that this facility was beautiful and the care was excellent.
Complaint Inspections
In the aggregate, Brooke Grove appears plain average (3 of 5 stars) -- for health inspections, for staffing, and in its overall rating. It excels in terms of quality measures (4 of 5 stars) but has counterbalancing red flags - for instance in numbers of health deficiencies, and the fact that it has had two health complaint inspections within a year (August 2015 and January 2016).
In the second of these inspections, which doubled as a standard health inspection, Brooke Grove came in high on the total number of health deficiencies, at 15; versus an average of 10.6 for Maryland and 7.0 for the U.S. Even more concerning: Brooke Grove was found to have at least one deficiency in all eight of the measured categories: including four deficiencies pertaining to resident rights; and two each for quality care, resident assessment, pharmacy services, and environmental factors. Brooke Grove also had a deficiency for "mistreatment."
Failure to Report
That last-noted deficiency brings up the matter of the August 2015 health complaint inspection. In this case "it was determined that the facility staff failed to report an allegation of physical abuse to the police in accordance with State laws." A resident had alleged that a staff member had struck him, but he was "confused" about the details, and physically unhurt. Even so, Brooke Grove should have made a prompt report to the police, but "there was no evidence" that it did so.
As for the January 2016 complaint inspection, a detailed seven-page Medicare report cited Brooke Grove for a number of seemingly minor infractions: failure to supply medical records to a family in a prompt manner; failure to refer a resident promptly for dental care; failure "to adequately monitor an individual" who required monitoring, and other such citings. Taken together, however, the numerous items in this report could suggest a pattern of failed administrative oversight, a careless or overburdened staff, or some other serious underlying cause.
Nursing Average
Still, average is average: not best, not worst. Brooke received an overall 3 of 5 for staffing - although only 2 out of 5 on RN staffing, which is a sensitive measure of care. The RN average at Brooke Grove is 31 minutes per resident per day, versus 51 minutes nationally and a Maryland state average nearly twice as high (59 minutes). But Brooke Grove did outperform the state and national averages in three other staffing categories: resident time with LPNs and LVNs (licensed practical nurses, licensed vocational nurses), physical therapists, and certified nursing assistants. It appears that these positive metrics brought the facility's staffing rating up to "average." However, Brooke Grove scored on the low side in terms of overall licensed nurse staff hours per resident per day.
Good Quality Scores
In terms of quality measures, Brooke Grove got its highest mark, with a 4-of-5 rating. Indeed, for short-stay residents, Brooke Grove got superior marks - scoring better than the state and national averages almost across the board. Among the notable stats here are resident improvement in function and successful discharges into the community. On resident improvement, Brooke Grove beat the Maryland and national averages, 75 percent versus 64.8 percent or 63.3 percent; on discharges, 71.2 percent versus 59.1 percent or 55 percent. This facility also outscored the state and national averages for outpatient ER visits, the incidence of pressure ulcers, and the administration of flu and pneumonia vaccines. Brooke Grove was better than average, too, on limiting the use of antipsychotic medications.
Mostly Positive
For long-stay residents, Brooke Grove had more of a mixed record. The Medicare data showed it to be considerably better on urinary tract infections (only 1.3 percent, versus 4.5 for Maryland and 4.8 for the U.S.) and on pressure ulcer incidence (only 3.9 percent, versus 6.8 for Maryland, 5.8 nationally). Brooke Grove was better than the norm for use of ongoing catheterization (doing it less than average) and on administering flu and influenza vaccines (doing it more than average). On the use of physical restraints, Brooke Grove was excellent: zero usage there, versus 0.6 percent for the state and 0.8 percent nationally. In what might be termed psychiatric categories, this facility bested the state and national averages on its limited usage of antipsychotic or anti-anxiety meds; and the rate of depression among Brooke Grove residents (2.7 percent) was well below the Maryland average (4.8 percent) and only half the national average (5.4 percent).
But Brooke Grove was significantly worse than the state and national averages on bowel and bladder control failure rates (88.5 percent for Brooke Grove; 58 percent and 46.6 percent for Maryland and the U.S.); and scored lower than average on long-term residents' maintenance of mobility, and on the percentage of residents needing help with daily activities. Still, the good stats outnumbered the bad, no doubt helping this facility reach that 4-for-5 rating in one category.
Brooke Grove did receive those troubling health complaint inspections in August 2015, and January 2016. But it has received no federal fines or denials of payment for the past three years.
Hiring a Nursing Home Lawyer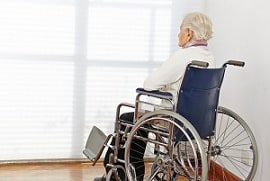 There is no question that Brooke Grove is a decent facility. Still, nursing home malpractice occurs in many good nursing homes. If you believe you have a potential lawsuit against Brooke Grove or any other nursing home or hospital, call Miller & Zois today at (800) 553-8082 or get a free no obligation case review. We are here to help you find discovery your options and determine where there is a path to financial compensation for the harm that has been done.
More Information
1Vital Statistics
Number of Beds:
190 certified beds

Beds in the nursing home that have been approved by the federal government to participate in Medicare or Medicaid.
Accepts:
Medicare and Medicaid

Shows if the nursing home participates in the Medicare, Medicaid, or both.
2Key Ratings
Star Rating Summary
Overall Rating
Much Above Average
Health Inspection

Medicare assigns the star rating based on a nursing home's weighted score from recent health inspections. More stars means fewer health risks

Above Average
Staffing

Medicare assigns the star rating based on the nursing home's staffing hours for Registered Nurses (RNs), Licensed Practice Nurses (LPNs), Licensed Vocational Nurses (LVNs), and Nurse aides. More stars means a better level of staffing per nursing home resident

Above Average
RN Staffing
Above Average
Quality Measures

Medicare assigns the star rating based on data from a select set of clinical data measures. More stars means better quality of care

Much Above Average
3Key Short Stay Statistics
Description
Brooke Grove Rehab. & Nsg Ctr
Maryland
Average
Percent of short-stay residents who self-report moderate to severe pain
Lower percentages are better.
13.5%
10.4%
Percentage of SNF residents with pressure ulcers that are new or worsened
Lower percentages are better.
3.1%
Not Available
Percent of short-stay residents assessed and given, appropriately, the seasonal influenza vaccine
Higher percentages are better.
91.8%
85.3%
Percent of short-stay residents assessed and given, appropriately, the pneumococcal vaccine
Higher percentages are better.
86.1%
84.0%
Percentage of short-stay residents who got antipsychotic medication for the first time
Lower percentages are better.
1.0%
1.7%
4Key Long Stay Statistics
Description
Brooke Grove Rehab. & Nsg Ctr
Maryland
Average
Percent of long-stay residents experiencing one or more falls with major injury
Lower percentages are better.
2.5%
2.7%
Percent of long-stay residents with a urinary tract infection
Lower percentages are better.
0.8%
2.5%
Percent of long-stay residents who self-report moderate to severe pain
Lower percentages are better.
0.8%
5.4%
Percent of long-stay high-risk residents with pressure ulcers
Lower percentages are better.
9.6%
8.8%
Percent of long-stay low-risk residents who lose control of their bowels or bladder
Lower percentages are better.
75.6%
62.3%
Percent of long-stay residents who have or had a catheter inserted and left in their bladder
Lower percentages are better.
0.0%
1.7%
Percent of long-stay residents who were physically restrained
Lower percentages are better.
0.0%
0.2%
Percentage of long-stay residents whose ability to move independently worsened
Lower percentages are better.
23.1%
22.5%
Percent of long-stay residents whose need for help with daily activities has increased
Lower percentages are better.
17.1%
18.0%
Percent of long-stay residents who lose too much weight
Lower percentages are better.
4.1%
5.8%
Percent of long-stay residents who have depressive symptoms
Lower percentages are better.
3.8%
3.9%
Percentage of long-stay residents who received an antianxiety or hypnotic medication
Lower percentages are better.
16.6%
16.2%
Percent of long-stay residents assessed and given, appropriately, the seasonal influenza vaccine
Higher percentages are better.
98.1%
96.7%
Percent of long-stay residents assessed and given, appropriately, the pneumococcal vaccine
Higher percentages are better.
94.4%
94.1%
Percent of long-stay residents who received an antipsychotic medication
Lower percentages are better.
14.3%
12.4%
5Inspection Summary
Date of standard health inspection:02/15/2019
Total number of health deficiencies:15
Average number of health deficiencies in Maryland:14.9